As 2017 draws to an end, I want to reflect back on the year that has probably been the most important of my musical career. 
I write this blog as more of a self assessment than boasting, but it's been a pretty spectacular year for me musically, and also a year that almost ended my career. 
In January, I was finishing off my debut album in Leeds and it was going as well as it could've. Andy was great to work with and I made my imprint in the studio sofa, sat there in awe of what Andy was doing to my songs. However, when I was called up to sing on one day, something was wrong. Over Christmas 2016, my voice completely went. I struggled through 25 gigs that month with the help of every vocal enhancing gadget and tea bag you can imagine. It was horrible, but at some points, behind me on stage were more pills, pastilles, hot tea, lemon and honeys than there should've been. Before recording my album, I took a week long break to recover and it seemed to have done the trick. We managed to record everything just about, but it taken way longer than it should've because of my voice.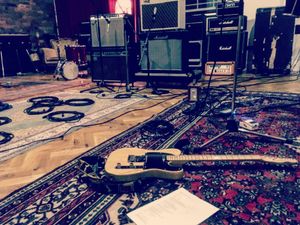 Recording the Album
We finished tracking the album in January and I went back to my job of singing at bars/pubs/weddings but my voice still wasn't right. I ended up biting the bullet and going to see a Doctor. I hate going to see the Doctor because more often than not, it's bad news. Lo and behold, it was bad news. I got told I have vocal nodules, which is pretty much every singers nightmare. Since that moment, I've done everything in my power to dissolve these modules back into the muscle (this was option 2 after surgery, which didn't really appeal to me *google Julie Andrews*). I'm happy to say that my voice is now up to the point it was circa June 2016, when I thought it was the strongest it's ever been. I had to learn to not take so much on and had to start exercising….physically and vocally.  I go for a check up next month to look at the state of the nodules but I have high hopes. I'm not worried though, Freddie Mercury had nodules…..actually, maybe that's what killed him?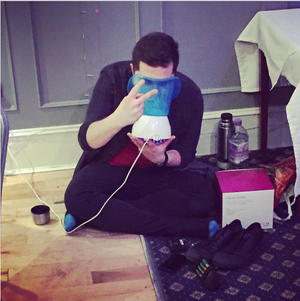 Me Steaming and Drinking Tea before a gig
Aside from that 'minor' setback, I powered on and released my debut album and the feedback has been incredible. Some radio stations actually played it, while some continued to ignore me(thanks BBC introducing…), but most importantly of all, it was listened to. At this point of writing, it's had 270 000 individual track streams (Comfortable is nearly at 100k on Spotify) and I've managed to shift a few of the CD's I made (I mean, who buys CD's anymore?).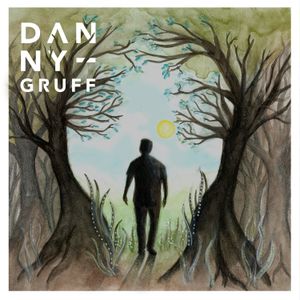 Album Artwork by Josh Elms
One of my favourite things to do as a musician is touring, and I've been on 3 tours this year. The first was around Europe before the album came out. This was the first time I was playing the new songs and it was great. I met so many nice people and alas, fell in love with Italy, Switzerland, France, Germany and had a panic attack in Amsterdam. I'd love to be able to do this again, and hopefully the Swiss police won't fine me next time.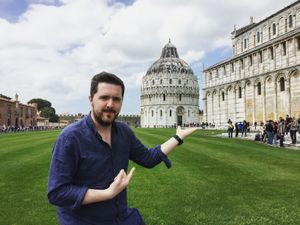 This building was opposite the leaning tower in Pisa
The second tour was to promote my album in the UK. It was a relatively small tour, but it was my biggest headline tour to date. A month before the tour, 3 of the dates were already sold out, another 2 closely followed and other 2 were just as amazing. I got to have Candle Thieves and Dave Giles support me, which is always a nice day out. I didn't drink alcohol or eat chocolate on the lead up to this tour, maybe that was the key to its success, the hunger….the literal hunger.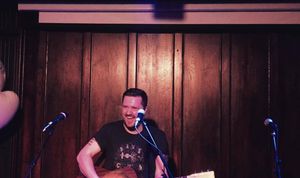 On Stage in a sold out show at The Castle, Manchester (Photo by Pamela Hardcastle)
The third and final tour was with a band (ish). I did 2 dates with a band and 2 on my own, one of the band shows was my biggest headline show ever and of course found it's way into top 5 favourite shows I've ever done. Thanks to Jac, Tom and Nick for making me sound good.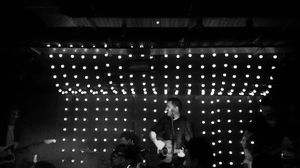 On Stage at Camden Assembly (Photo by Pamela Hardcastle)
These were all part of my New Years Resolutions last year. I also wanted to book a flight to Nashville, which I didn't do. But my friend Dave Giles did raise over 20k to record him album there, which is pretty much the same thing. I also planned to learn Piano, which I've planned to do for about 5 years and still haven't managed it. My problem is, is that I assume it will be easy. It turns out, it's quite hard. I have wrote out my goals for 2018, but as my friend once told me, never tell any one your goals, so I won't. Which makes the end of this blog quite the anti climax, but then again so was the TV show 'Lost', and people fucking loved that show.