Following the release of his self titled debut album in 2017, Danny racked over half a million streams on Spotify, a couple of sold out UK tours and a host of new experiences to write about on his second album. This sophomore album comes in the form of 'Author of My Own Misfortunes', released on 3rd April 2020.
Photo by Nick Kent Photography
The title of the album is a quote from Keith Richards, and gives a hint to Danny's new sound. Taking influences from the likes of The Rolling Stones, Bruce Springsteen, The Killers, Arctic Monkeys and Gaslight Anthem, Danny sees in the new decade with a bigger, rockier sound.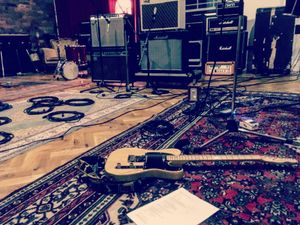 Recording Album #2 at the Nave, Leeds
New single, 'Princes and Paupers' is the first song to be released from the album on February 28th. This song is a good indication as to what's to come from the rest of the album. The song starts with just vocal and Acoustic and builds to a anthemic, Springsteen-esque climax. Written in 2018 with singer-songwriter Jack Rosies, the song is about finding your real friends in a world that is surrounded in fakery. 
This album contains more co writes and collaborators than the first album. The songs 'Road Less Travelled' and 'Wickerman' are host to songwriting credits from fellow folk troubadour, Lewis Fieldhouse. The song 'Gregory the Great' was written with Canadian singer songwriter Joey Clarkson, and also features her backing vocals on the album. The song 'Don't Cost a Thing' was written with Lyza and features Brass and Reed performances from Blackjack Horns (Lily Allen, Beverley Knight, Scouting for Girls, Olly Murs). Whereas most of the piano on the album was recorded by touring partner Glove Compartment and producer Andy Hawkins, the song 'Cold Arms' (a song written with Aislin Evans) features Piano played by Danny himself. 
The album will be backed up with a short run of Album Launch shows in Birmingham, London and Manchester in April. Tickets for these gigs are just £10. Support comes from fellow Welsh band No Lights at Lockdown and Glove Compartment.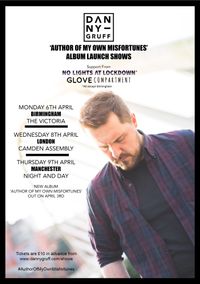 'Class Act', James Bourne (Busted/Son of Dork)
'What a Voice!', Chris Evans (Radio 2)
'Awesome', Jaret Reddick (Bowling for Soup)