Before I start this blog, I do want to point out something that's kind of been on my brain. One of the reasons I'm doing these blogs is because it will help me remember these experiences when I look back in the future. It's hard to know how far you've come, without looking where you've been. Hopefully I'll look back at these blogs in my mansion in Chiswick in 10 years time and laugh about the time that I thought I was going to get killed by an owl in 2017. Read on to know more.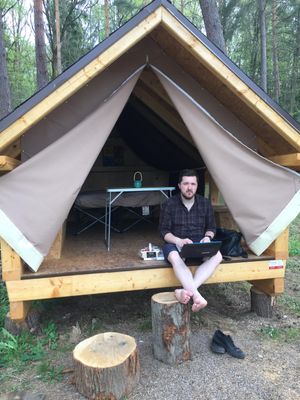 We left off the last blog when I was in a forest in France. We were in Osenbach, surrounded by this awesome scenery. I drank a little bit of red wine and started writing a song. The song itself was called 'Skin and Bones', don't know if it will ever be heard by any one else but it was nice to be writing again. I've started getting really inspired on this trip. Using your brain is hungry work so we asked the camp site owner where we could grab some food and maybe a bite to eat. He told us of a Restaurant in the next town along, which was 3km away. I couldn't drive, because of the wine and I thought Dave deserved a drink so we walked. The weather was OK but it was getting colder an the sun was starting to go down. We walked down a big hill through a forest like area, and we still had only travelled 1km. It was at this point, we realised how far away it was. 2km later, hungry, thirsty, tired, we arrived…..and it was shut. Raphael (camp site owner) has sold us down the river! We couldn't believe it. At this point, the sun had gone down and the weather had took a turn. The beautiful forest like area was now pitch black and silent. I'm pretty sure that I've seen horror films that start like that. We survived and went back to the camp site and ate cereal bars. It was around about 3am, when I realised sleeping in a camp in April was a bad idea. I ended up sharing a duvet with Dave for fear of death from the cold. 
The next morning, hungry and cold, we headed to Switzerland, Bern to be precise. Here, we would meet up with our friends Anni and Nathalie, who collectively make a wonderful duo called Van Bloom. This was for our 3rd gig of the tour in a place called The Piazza Bar. We first went to a place to grab some food, and apparently this place is lawless. It was a little but surreal, but to its credit, the Graffiti was amazing and the food was a delight. The food was pricey but I suppose they can get away with daylight robbery. They also had implemented a system, which I believe should be brought to the UK. They had a centre, where drug addicts can go to legally get drugs for their fix, and take them in a clean and safe environment with professionals surrounding and assisting them. I asked a few people about this to get their opinion and they said it certainly helped lowering the crime rate. I liked that. We took a little stroll and headed to the venue for the gig.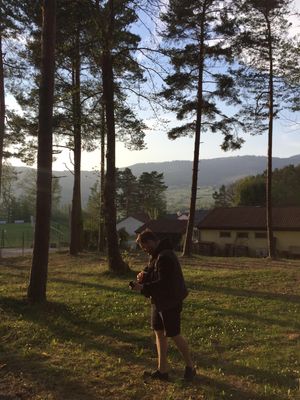 It was a lovely little bar, just around the corner from the centre. The only people that we knew in Bern were Van Bloom and without them, we probably would've played to an empty room. They brought loads of their friends along who all made us feel at home. I started off by learning a bit of Swiss. I could blag my way through a 10 second conversation, which is better than being silent I suppose. We weren't getting paid for the gig, we were doing a 'here's a hat, put money in it if you liked us' job. Since we done the 'Pay What You Want' tour in October, our attitudes towards paid gigs has somewhat changed. Van Bloom went on first and were great. Here's a tip for the future for musicians…don't have a support act who are better than you and bring all the crowd. It didn't half make me nervous, they were great and it's a massive shame they don't play together more often.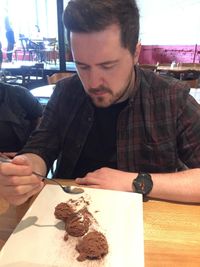 The thing with Van Bloom, was that they had the lingo on their side. They could speak Swiss, Dave and I however, not so much. So before Dave started, I suppose we were both a little nervous of how it would translate. Some of our songs are a little wordy, so we tried to tailor it. Luckily, the crowd were awesome and welcomed us both with loving arms. I even managed to get a swiss sing along for the new song, 'We Got This'. Afterwards, we drank with the locals until closing time. At closing time, the bar staff insisted that we all had a shot with them and eat the remaining pastries that they sold, not a problem. 
After we left the bar, we were treated to a walk around the town with some of the locals who were at the gig. It was beautiful. We were shown a statue of a man eating a baby, which apparently used folklore to make kids behave when they were younger. There was Einstein's house. The city hall was beautiful. We then found a late night and had a couple of beers and returned home. The next morning, we got up earlyish to explore the city in the light. It was just as beautiful, if not more. It was one of those places (like Luxembourg), that everywhere you turned there was a new beautiful sight to see. I had a lovely coffee from a place called Adrianos. It was at this point that I realised that Europeans tend not to do coffee the same way that we do. Apparently, they were quite offended when I ordered an Americano.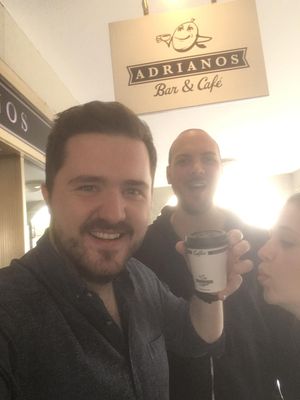 I've tried to open my eyes a little bit since this. O yeah, just one more little thing…BERN HAVE BEARS!!! There are bears living by the river. That was incredible and so were the views. Thanks to everyone who made Switzerland such a special time for us. Anni, Nathalie, Susi, Cloe, Dave and anyone else we met along the way.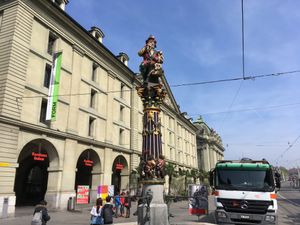 I realise this blog is already long. But, I had to finish off day 6 before I bid you farewell. We went to Milan. On the way, we crossed the Alps and some of the most beautiful scenery in which I have ever seen. I couldn't believe that we were driving through this for free! It turns out, it wasn't free. We needed a sticker for our car for 40 euro....we didn't know this. And because we didn't know this, we were fined 200 euro by the Swiss police. That was a bit of a downer for the day, and we needed perking up by the time we got to Milan. That didn't happen.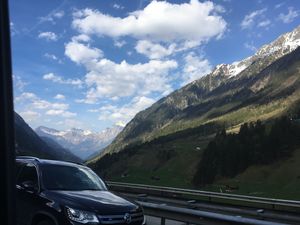 We stayed in the ironically named 'Lovely House', which was in the Bronx. Luckily, i'd seen 8 Mile the week before, so I knew how to do deal with this situation. We went for some disappointing food, which was not what I become to know if Italy. The Cathedral was pretty lovely though, I'll give it that. The next morning, we woke up at went to Pisa. But that's for the next blog. 
Also, as a side note. 4 tickets left for Birmingham on the tour in July, let's get it sold out by the time I return!