Recently, I've started taking up drinking coffee again. I had to stop for some time because apparently it's dreadful for your voice. I think I read far too much into what is good and what is bad for your voice. I've given up chocolate and take aways (mainly pizza) for lent for that reason….but they are good for the soul and I can't wait for Easter Sunday to come around. 
Anyway, my coffee fascination started a few years ago when I was in a studio in Ireland with my band JKLMNO. They had a coffee machine in the studio or as we called it, 'The Fresh Pot Machine'. On the way over, we watched that video of Dave Grohl just shouting 'FREEESSSSHHHH POTTTTSSSSS' in the studio. Lo and behold, every half an hour, you would hear a beckoning from the kitchen of the studio of 'FREEESSSSHHHHH POTTTTTTTTSSS', that's when you knew someone had made a coffee. For that Christmas, I got a coffee machine for my house. Between that, and my friend Lorna working at Starbucks and giving me ton of free coffee beans, the obsession had begun. It's kind of like when my obsession with Whiskey started. I like to think the coffee one is healthier, but I don't think it is…saying that, the two go hand in hand beautifully. 
So for this blog, I'm just going to direct you in the way of a few of my favourite coffee places that if you're in the area, you should check out. Number 1 is where I'm currently writing this blog: 
The Coffee Traveller (http://www.thecoffeetraveller.com/)
This coffee shop is located by the river in Kew, just off Kew Bridge.I discovered this place on twitter and thought I'd check it out one day. It's nice and quaint and the staff are really friendly. The first time that I came in here, I got to play with a dog whilst doing some other work. That was nice, great coffee too. I'm yet to discover more about what beans they use and such like, but that will come in time.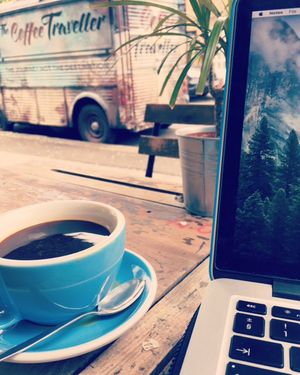 Rhythm and Brews (https://www.facebook.com/Rhythm-Brews-832301163531851/)
Another London one this, just by the field in Chiswick. I remember a few months ago, I was in the car with my girlfriend and I started saying how I've had a brilliant idea for a coffee shop and it is called 'Rhythm and Brews'. Turns out, it's a place that already existed and it's a million times better than I could've thought up in my head. You walk in and there and there are original prints by the photographer Robert Ellis. He was one of the world's leading photographer in the music business when quite frankly, music was better. There are pictures of John Lennon, Elton John, Freddie Mercury, Stevie Wonder, amongst many more. The coffee is absolutely delightful and so is the food. Again, staff are great. Also, down the stairs, they have chalk board walls where you write your favourite song down. I have yet to see one of my songs there…hint hint. O yeah, and they play Vinyls, and have a massive selection there. They let me pose for a few photos there the other week when Nick Kent was taking photos of me.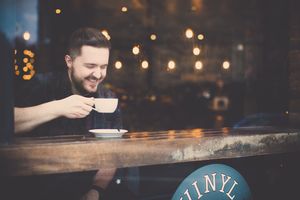 Taken by Nick Kent Photography

King Street Coffee (https://www.facebook.com/kingstreetcoffeecompany/)
This is a Wrexham one. It was a company set up by two brothers, Phil and Andy Gallanders. I've known these two for years. I used to play in bands with Phil and Andy used to run music nights, which I played at. Weirdly, Phil and I played a year 6 prom once and covered a high school musical song. Not my finest hour. They used to work in a big chain of coffee shops and I remember Phil saying years ago that he'd love to have his own coffee shop. It was definitely worth the wait, them boys knows their coffee. 
I was in there yesterday and I expressed an interest in making coffee. They went above and beyond to show me alternative ways of making coffee. It opened my eyes no end, and I massively appreciated them taking the time out to do that. We did an espresso tasting and made a coffee using a V60. 
These guys use a Liverpool based company for their beans called 'Neighbourhood'. Not only is it great coffee, they use great puns in their coffee types. Such as 'I Can't Get No Caffeination', 'Grind Control to Major Tom' and my personal favourite, 'Espresso Yourself'. 
Seriously, if you're in Wrexham, check these guys out. They're located in the Wrexham Bus Station. In a time when Wrexham is getting a lot of bad press, these guys seem to be pushing for a better view of Wrexham. 
This is just something I wanted to get out there. I love independent coffee shops, and they're definitely worth supporting. One day, I do plan to have my own but I've still got a lot to learn.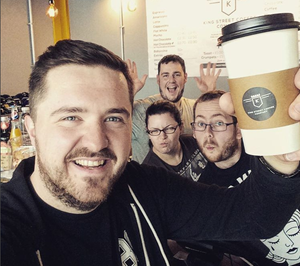 Me with the King Street Coffee lot!
Anyways, other news. The tour in July is selling ridiculously well. Nottingham and Manchester has already sold out. Leeds, Birmingham and London are not far behind. Newcastle and Glasgow are selling steady but I never expected them to sell out. I never expected any to sell out to be fair. I'm truly overwhelmed, so thanks very much.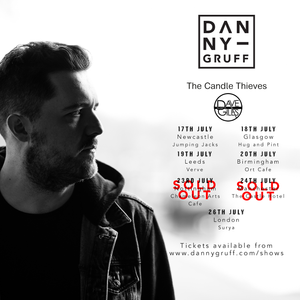 The album will be out soon. Mid May seems to be the target. The artwork is nearly done, the mixing is nearly done and all the other stuff surrounding it is nearly finished. There will be different packages available for the album. One package includes the lyrics to a song called 'Coffee Beans', handwritten onto a sheet of coffee paper (made from recycled Coffee Cup Paper). 
One more thing, I head out around Europe with Dave Giles on Friday. We're still looking for dates in Amsterdam and Germany. If you know of any promoters or anything, send them my way.