I realise it's been a while since I blogged. I should've blogged about my album, or the tour I did in July. I probably should've even blogged the final part of my European Journey, I will get round to that though, Germany was incredible. However, for now, this is a blog about a very big thing to do with my upcoming dates in October. After years of playing solo, I've decided to do a few gigs with a band again. When I lived in Wrexham, I put a band together and we played together for a couple of years, this band was called The Peacemakers. Since I moved to London, I've been doing things solo, as it costs a lot to bring a band down from Wrexham. Until now…I have got together a few uber talented friends and we'll be doing a couple of shows together in October. 
People have been saying for a while that I should get a band, mainly because I always record as a band, so I suppose people are used to hearing these big arrangements. As much as I've tried to recreate and rearrange the tracks for just my self and a guitar (and a few other toys), getting a band together is a completely different ball game. Let me introduce you to the members of the band: 
Drums: Tom Shepherd 
Tom is the drummer out of my function band, In Session. He joined the band at a similar time to me and we got on like a house on fire ever since. Tom is one of those musicians, who have a ridiculously good musical ear. Working as musical director on Cruises for years means that he can bring that extra sparkle to the band when it comes to arranging. Not only that, he is a great drummer and ridiculously versatile. Tom also plays in a band called 'Bond Street' who do like 50's style arrangements of modern songs. Check them out here. He also played in 'For Apollo' with Nick. 
Bond Street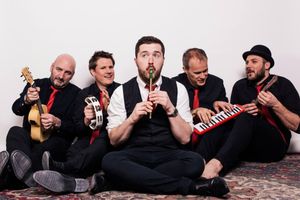 In Session
Bass Guitar: Nick Kent 
What can I say about Nick Kent? I've known Nick for around 6 years now. We've lived together for just over 3 years. He is one of the people that forced me to move down to London. When I first moved to London, he was the one person to motivated me the most to go out and get work. This was because I spent most of my days on the sofa being hungover and watching rubbish TV. He's always been there for me to lend a helping when I need it. During my ONTAW project, he borrowed me his really nice bass guitar almost every week. He also filmed a few of the videos, and featured in a couple….most notably 'Blank Page'. 
Blank Page
Nick studied Bass guitar at degree level, during which time he joined a band called 'TAT" and toured the world as a blue haired punk with a mohican and neck muscles of a greek god. During his spell with TAT, he's opened for acts such as Alice Cooper, NOFX, The Used, Me First and the Gimme Gimme's, Bad Religion as well as doing a few Warped Tours. Since then, he's been dabbling in bits and bobs, like playing Bass for the American Idiot UK theatre tour and most notably playing for Dave Giles, which he often describes as his proudest moment as a musician.* 
Tat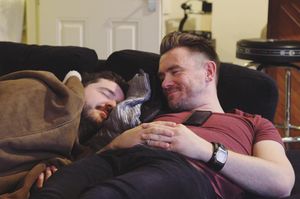 As well as that, he's an awesome photographer and most of pictures you see of me were taken by him. He is mastermind between the swiss roll picture, which he describes as 'A Modern Day Mona Lisa'. He also directed/filmed/edited the music video for 'Comfortable'. 
Comfortable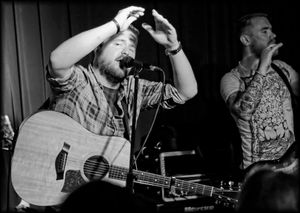 Electric Guitar: Jac Roberts 
I've known Jac the longest out of anyone in the band as he is a fellow Wrexham lad. I first met Jac circa 2006/2007 I reckon? The first band that I sang in, needed a guitarist and he was one of few people that replied to the advert. He joined the band, which was called 'The Rigbys' and it was one of the most fun musical ventures I've ever had. We were together a few years and played some awesome gigs, some of which included supporting The Subways and Nine Black Alps. 
The Rigbys
After The Rigbys, Jac went on to play guitar for various projects while studying at Cheltenham. Jac had a fair level of success with his band 'Deaf Club' who played some pretty big shows including Koko in Camden and also SXSW festival in Austin, Texas.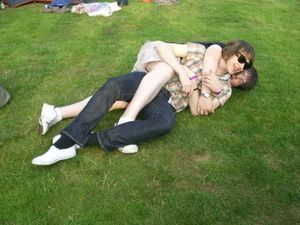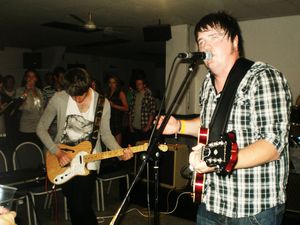 So, there's my band. I'm so excited to play these shows with these guys and play the songs louder than ever. I'll be playing Manchester on 8th October and London on 15th October with the band. Here's where you can get tickets: 
Manchester: http://www.wegottickets.com/event/410372 
London: https://www.ticketweb.uk/event/danny-gruff-the-camden-assembly-tickets/7502255?pl=camdenassembly 
Hope to see you there! 
Danny