Let's pick up where I left off on the last blog. Dave and I woke up in the aforementioned 'Lovely House' in Milan and decided to make our way to Pisa. In my life, I had learned two things about Pisa. 1. They have a tower that is falling over and 2. It kind of sounds a little bit like Pizza. I love Pizza and can't resist a trip to a landmark so off we went. The town itself was gorgeous, walking around Pisa was where my love for Italy started to take hold. We visited the leaning tower and it was as expected…leaning. Throughout the trip, I planned to get Naomi a snow globe from each place we visited. It's a thing we started a while back and I like it. My Nan has a collection of bells, which people have bought her from their travels. I felt the snow globe thing was a tradition like that. Finding a snow globe was not an issue at all, in fact, you could buy pretty much anything with a wonky tower in it or on it. The tower was beautiful, however, the buildings around it were also stunning and I felt sorry for them. The leaning tower was a little bit like Gary Barlow (chiselled, handsome, great singer……I'm losing the metaphor), and the buildings around it were like Howard Donald and Jason Orange (under appreciated).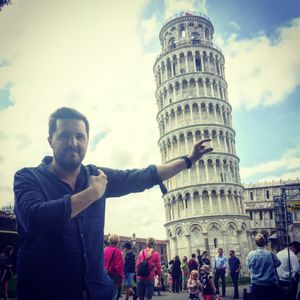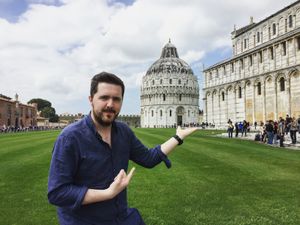 Top: Gary Barlow
Bottom: Jason Orange

That wasn't where the beauty ended, we walked into the town, where we surrounded ourselves with stunning architecture and quaint shops. Next on the list to do was get a pizza. Dave's girlfriend, Faye, did some research for us and we found a place where we could order a Pizza that was a metre long. It turns out, that is somewhat of a novelty. When Dave and I received our pizza, the onlookers were baffled and I can only assume to be impressed. We made light work of that and marched off to H and M to buy clothes for the wedding the day after. I know what you're thinking…."Danny, you're in Italy and you still shop at H and M". Yes, yes I do. Other clothes shops scare me and I knows what I like. The building was an old bank and it was stunning. Marble floors, stone pillars and majestic artwork. Coincidentally, the only other shoppers we spoke to in there were British. They were probably in the same boat as us. After that, we visited a Gelato shop and I had a Gelato and an espresso. The lady who owned the place put Olive Oil on my Gelato, which solidified my theory that Italians put Olive Oil on everything…..except she was originally from Northampton.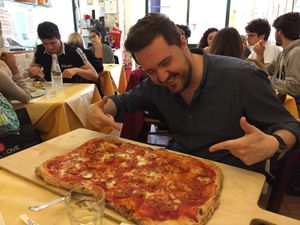 Impressive
After that, we headed up to Volterra, where we would be playing a wedding the day after for the future Mr and Mrs Brown. They invited us to the Villa for drinks and food the night before. It was a great opportunity to meet the guests and to soak up more of Tuscany's beauty. We had a few drinks, ate some pizza, tried to make the wedding guests laugh and took part in a quiz. I was on a quiz team with the groom's mother and the bride's mother, so I was on my best behaviour. Saying that, I still managed to slip in a 'That's what she said' joke before we left them to sleep before the big day. It's the little victories.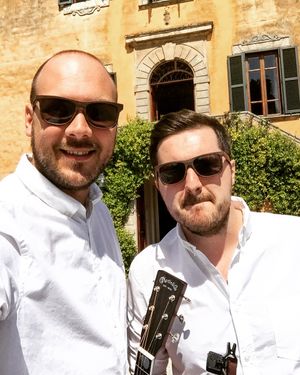 H and M's finest
We woke up on the day of the wedding and the weather was stunning. We didn't have to be at the villa until 2pm so we headed off into Volterra town. Considering it was in the middle of the mountain, I wasn't expecting much. I couldn't be more wrong. It was equally as beautiful, if not more beautiful, than Pisa. The views from the suburbs of the town were stunning and again, the architecture was amazing. We took a walk around and got ourselves a local cuisine of Pasta and Bruschetta. It was at this point where Dave and I coined the phrase, 'Take Me Home'. We would look over the Tuscany hills and say 'Take Me Home'. We would take a bite of the best Pasta available to man kind and say, 'Take Me Home'….you get the gist. After some food, we headed to the Villa to set up and get ready to play.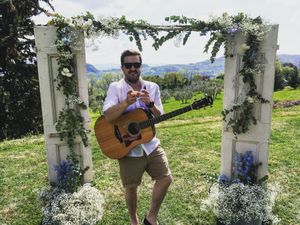 Top: Take Me Home
Bottom: Take Me Home

We had two slots to play, one at the ceremony where they would say their vows and one at night. This left us with approximately 6 hours off. We played 'Here Comes The Sun' and 'I'm Yours' at the ceremony, and from that we knew that the day would be great. The guests were all super friendly and welcoming. The weather was stunning and the surroundings were perfect. Because of this, we decided to play a few songs in the background while they were having afternoon drinks, instead of us sitting in a room trying to make conversation with each other. Dave played 45 minutes on his own and then I was to play 45 minutes on my own. By the time I was playing, I think that their Prosecco had kicked in and the guests were ready to hit me with ridiculous requests. I opened up with 'Tribute' by Tenacious D. After this, someone requested 'Sorry's not good enough' by McFly, which of course I knew. This lead me to perform a full history of McFly. I'm still not sure why. The day carried on in the same vain and Mr and Mrs Brown said to us, 'help yourself to anything', which meant 'FREE BAR' to me. I haven't been drinking alcohol lately because of worries about my voice, however, 'I was on my holidays'. Dave and I ended up playing 3 and a half hours straight at night. They never stopped dancing once, it was so much fun. Definitely one of the highlights of my wedding singer life. If you are reading this and you were at that wedding, thanks so much. Everyone there made the day incredible. Most of all, thanks to Sam and Charlie.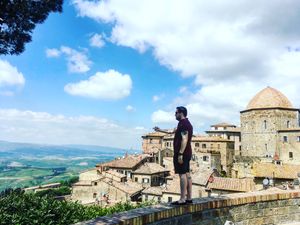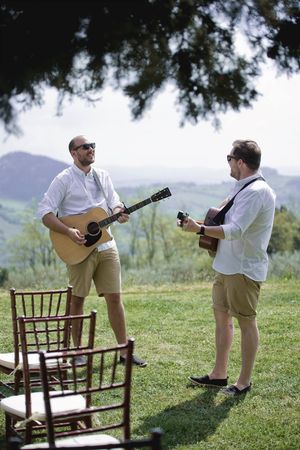 Top: Take Me Home
Bottom: At the wedding (photo by RobWestPhotography.com Lovely guy)
As we got into bed around 2am, Dave said we were to be up 6:30am to drive to Munich. I knew a hangover was coming, but it was worth it. Part 4 of the European Tour Diary coming soon! 
As a side note, Album pre order should be up next week. Tickets for the tour are still flying. Get yours now!