The start to 2017 has been a strange one to say the least. It started with me just getting over an illness, which was nice. Then my car broke down, which cost me more than I cared for. I then took on every gig possible to raise funds to fix the car. During this time, I got ill again. I went to a Doctor and he told me to stop, I said no and proceeded to record my debut album.  I got back from finishing the majority of my album and had a few gigs booked with the wedding band I'm in. A lot of people in the wedding band industry don't care about their job, it's a way to pay rent and they go through the motions. As with everything I do, I want to do the best job I can possibly do, and I wasn't able to.

All credit to the band(In Session), they humoured me and lifted my spirits at a time when I was really reconsidering my career options. My voice still wasn't getting better despite any amount of honey and lemon I was drinking, steaming I was doing or social events that I was not attending. I went to see a vocal coach for the first time in my life. She told me that I might have vocal nodules, which basically means I would have to have some form of operation which puts me out of action for a few months.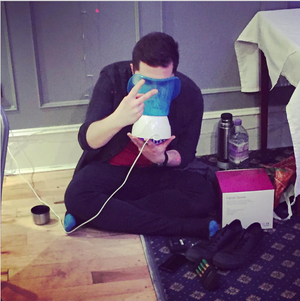 Steaming before an In Session gig
So at this point, I was feeling pretty low and didn't know what to do. But it was all good, because I was on my way to Disneyland with my girlfriend. That was great, and I'm sure the screaming I was doing on the rides was definitely helping my voice. When I got back, I knew I had a small stint of a tour coming up with Bry.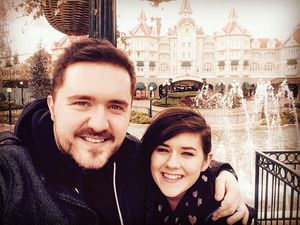 At Disneyland 
I've toured with Bry a couple of times, and he just keeps getting better and better. If you haven't checked him, go to website here. Check out his debut album and fall in love with his Irish charm. I joined the tour in Birmingham, at a venue called Mama Roux's. Lovely venue, the venue kind of looks like it should be outside but it's inside. Then we played Cardiff (The Globe), Leicester (Academy), Norwich (Waterfront) and I left them after the show in Brighton (Komedia). I was playing to a 99% new audience, which was super exciting. I was professionally underprepared for the tour. I hadn't even planned a warm up show to prepare, which is something I usually do. 2 days before the tour, I got asked if I wanted to support a band called The Wooden Sky in London. I jumped at the chance as it was a day before the Bry tour. That gig alone was enough for me to feel stupid for even thinking about reconsidering my career options. I love playing on stage, even when I'm not at my best.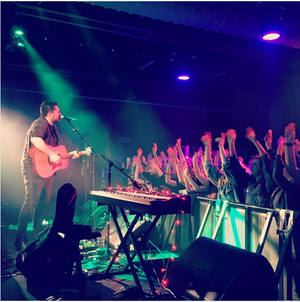 On stage in Leicester

There's no feeling quite like getting on stage in a room full of people and trying to prove yourself. Sometimes it doesn't go your way, sometimes it does, I think that's part of the thrill. The audiences I played to over the past week have been nothing but a pleasure. It's frustrating waiting for one of your favourite acts to come on, especially when a Welsh singer songwriter is shouting songs at you on a stage. So if you were at any one these gigs and you saw me, thanks for being nice to me, it means a lot. I'm sure I won't be forgetting those gigs in a hurry. I want to send big love to Bry, Bry's band (Gerry, Adam and Gary), Tessa Violet, Bry's wife Candice and my girlfriend Naomi for helping me out and being lovely to me on this tour.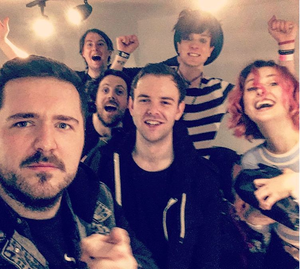 So what's next? This weekend, I go back to Leeds to finish my album. Then it goes to mastering, and then it will be ready to release. My plan is to release it by April/May. There's going to be a few bundles available as well with some bonus material. There's a new logo in the pipeline as well, which means there will be new T Shirts and such like. It's all very exciting and I can't wait to get music out there. I also have a tour booked for July. If you want to be the first to hear about it, sign up my mailing list now! 

You can also catch me supporting Ryan Hamilton in Cambridge on 2nd March. He's just released an album with his band 'The Traitors', check it out, it's awesome. 
Also…I have 4 hats left and around 25 wristbands left if any body wants to snap them up, head over to my site now.